About Val-d'Or
A city known for its hospitality
Val-d'Or is known for its hospitality.  Over the years, it has been able to weave ties with the North as well as with the rest of the world. For more than half a century, many people, goods and services have transited through Val-d'Or on their way to various northern communities and other destinations.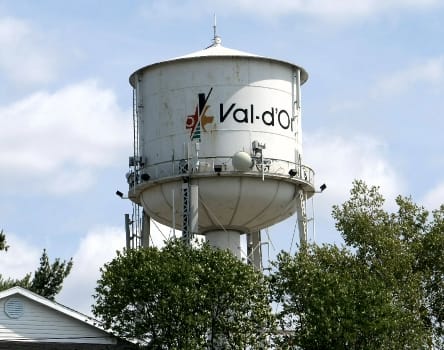 Val-d'Or has developed great expertise with goods and services
More specifically, Val-d'Or is renowned as the hub of choice for servicing the northern territories. It is a centre of expertise in northern logistics. It also stands out as a strategic trans-Canada crossroads.
It is particularly recognized as the hub of choice for serving the northern territories. It is a centre of expertise in boreal logistics.
You will find a large concentration of equipment manufacturers, contractors, professionals and specialists well known in the mining, forestry and "nordic" fields.
Val-d'Or's business community is known for its entrepreneurial spirit and its openness to the world. Over the years, it has been able to forge ties that go beyond our borders. Our business owners are familiar with markets across Canada and on all continents.
Our organizations support the development of our entrepreneurs outside the region.
Val-d'Or has one of the richest subsoils in Quebec. The know-how of its workers is the result of a long-standing partnership with the mining companies operating on its territory.
The residents on the territory also have extensive experience with the development of the forestry industry.
Logistic
ROAD ACCESS
North axis
Route 111 vers Route 109 towards James-Bay (Radisson) (870 km)
South-East axis
Route 117 to Autoroute 15 towards Montréal (527 km)
South axis
Route 117 to Route 105 towards Ottawa (417 km)
South-West axis
Road 117 towards Road 101 towards Road 65 (Ont) towards Road 11 (Ont) towards Toronto (738 km)
West axis
Route 117 to Route 66 (Ont) to Route 11 (Ont) towards Vancouver (4,254 km)
COMMUNITY
THE NATIVES AND VALDORIANS
Over the years, Val-d'Or has developed business relations and cultural exchanges with the Algonquin and Cree communities of Northern Quebec. There are therefore several Aboriginal entities and businesses established within the Val-d'Or community.
In terms of education, the First Nations Pavilion of UQAT welcomes each year Aboriginal students from different communities and regions in order to obtain their university or college degree. The Val-d'Or campus also has an impact on the outside world with specialized training in Aboriginal culture.
In terms of health, the Aboriginal population travels to Val-d'Or to receive medical care. The Cree Health and Social Services Centre is also located there. The Native Friendship Centre, in addition to offering various services, plays an important role in receiving and housing First Nation people in transit in Val-d'Or.
See the website of the SECRETARIAT TO THE CREE NATION ABITIBI-TÉMISCAMINGUE ECONOMIC ALLIANCE
Val-d'Or – Technical information
Population: 32,778
Working population: the median age is 42 years and 69.8% of the population is between 15 and 65 years old
Area of the city: 3,983 km2
Schools & educational institutions: Seven (7) elementary school, three (3) secondary schools, Music and Dance Center, Music Conservatory
Post-secondary institutions: Vocational training center, Adult education, CEGEP Val-d'Or Campus, Université du Québec en Abitibi-Témiscamingue Campus Val-d'Or
Hospitality:  627 rooms